Military Rhibs
They are the boats of the special forces such as the Navy Seals.
SOBS is an independent part of SPIDER ROCK and a full-service provider for special operation boats. If they are in Vienna you have the unique opportunity to rent them including an experienced skipper.
Definition RHIB: Rigid hull inflatable boat
Charter your High Speed Military RHIB with skipper.
Depending on the Rhib for up to 5 people (Sillinger, Hurricane) or for up to 10 people (Goldfish M12) on board.
A highly specialized construction, a strong motorization and an experienced skipper who ALWAYS adapts his way of driving to the surrounding situation and the people on board, make these boats a safe experience.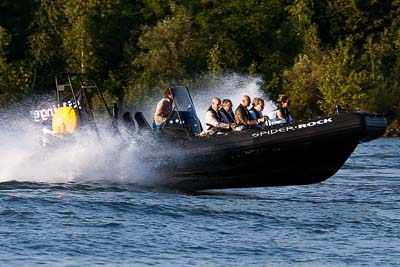 SILLINGER PRORAID 765
Our "smallest" is of course also our most manoeuvrable. With its 400hp, it can still reach a top speed of just over 100km/h. Under appropriate conditions (e.B strong waves with south winds), the trip can be a wild ride over the water.
ZODIAC HURRICANE 955
With impressive 900hp, the RHIB can reach up to 120km/h. Strong and manoeuvrable, this RHIB was designed not only for the high seas, but also for use on narrow rivers. Comfortable offshore seats help to make the adventure an – almost – comfortable experience even in harsh conditions.
GOLDFISH M12
1050hp at a length of 12 meters allow our Goldfish to reach maximum speeds of up to 140km/h over the water under appropriate conditions. Depending on the position of the seat, this speed and incredible power of the three engines can be experienced very differently.
Would you like to rent our Military RHIBS over a longer period of time (e.B. for an event, course, training, photo shoot, or a completely individual experience for your customers, etc.)?
You are an agency or reseller and have questions about our modalities for cooperation?
Please direct your inquiry to:
Some things are easier to discuss by phone. Call us at: